Choose your License
Standard Barcode Printing Label Maker Software allows creator to easily customize the label by changing the color, text, and font according to the requirement. Standard edition software eliminates the possibility of human error and reduced employee training time. Application is inexpensive to design and print labels. Standard Barcode coupon designer program has facilities to view generated barcode images before you print. Standard edition barcode software is used in several industries to enhance accuracy and potency of business.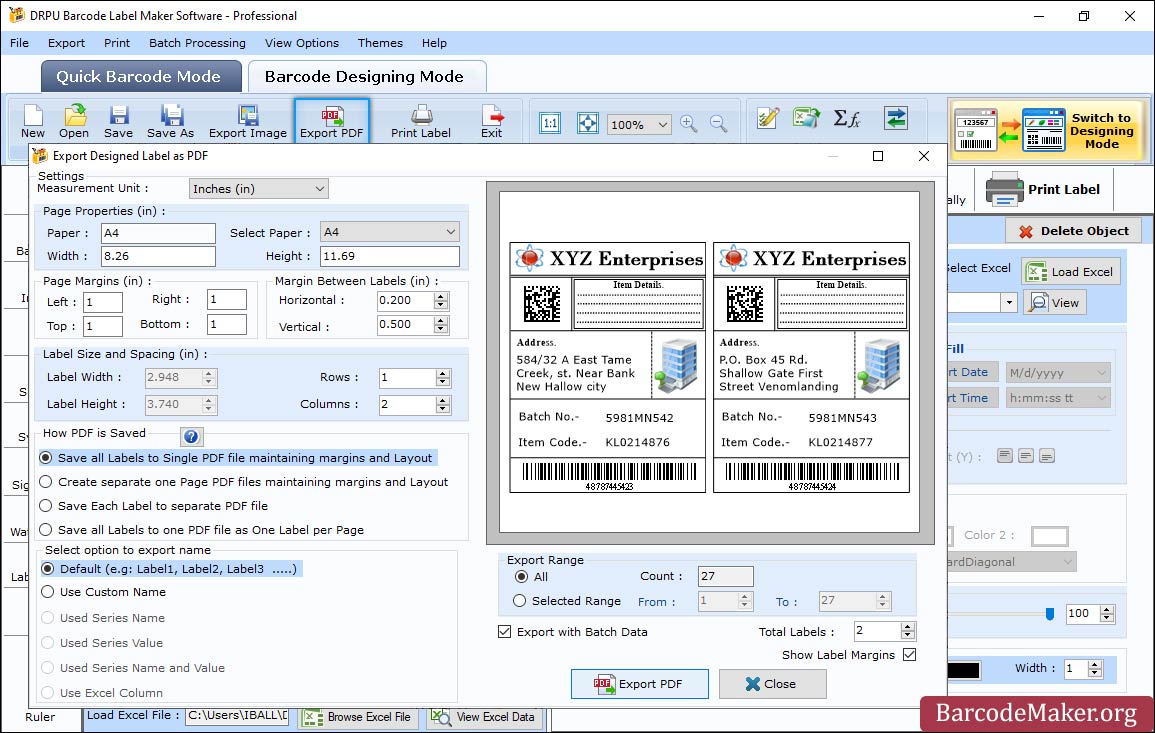 Applications of Professional Barcode Label Software
Barcode Label Application support all major barcode scanners and printers to satisfy industrial business wants. No skilled facilitate or help needed to execute the barcode label maker program.

Barcode sticker Program provides technically advance option to create Barcode List using Sequential, Constant Value and Random Series options.

Data Set Series feature allows generating multiple copies of labels with different barcodes and text value in Barcode Creating View.

Barcode label printing software system provides choice to save generated barcode pictures on laptop in numerous file formats.
Professional Barcode creator program create Barcode tags, stickers in straightforward approach. Barcode generator program support linear and two dimension fonts whereas making barcode labels. Software provides advance barcode planning read to form business specific barcode pictures.

Program provides facility to repeat and paste generated barcodes in numerous Windows applications like MS Word, MS paint and MS stand out. Barcode generator program uses line, text, pencil, ellipse, rectangle, arc and different barcode planning objects to form custom barcodes labels. To create barcode label then just generally choose the Linear and 2D barcode option as shown in following barcode designing application screen. Now fill details like Barcode label value, header and footer. Select and fill the setting like General, font, color and background According to your requirement. Open "General Settings" option to set the header, footer, top and bottom, left and right margins.

User can Change barcode color, barcode value color, barcode header color and barcode footer color etc. Font Settings: Open font setting for font styling and set the barcode header, footer, and value font. Insert a barcode label value by clicking on the barcode icon from the drawing tools. Choose 2 dimension and font of barcode then enter the value of Barcode header and footer.

Enter the Barcode value to the software by you requirement. If it is important then you can put the input data of header and footer. Set the additional settings. For Print, User can use Print setting option to print your designed and modify barcode sticker. After completing the barcode generating process and choose the print from Professional tools.

Choose print mode, Pre-Defined Label Stock or Manual. In manual print mode, set various printing settings as per Need. Designer may also choose Pre-Defined Label Stock mode to use pre-defined settings. User can view the barcode before printing the card, select Label, set Page Properties and click on the "Print Preview" button to view the generated barcodes before printing.
Supports Linear and 2D barcode fonts : Barcode Label Maker Software (Professional) supports all major Linear barcode font standards given below
Linear Fonts standards : Codabar, Code 128 Set A, ISBN-13, Code 11, Code 128 Set B, ITF-14, Code 128, Code 128 Set C, LOGMARS, Code 93, Code 39 Full ASCII, PLANET, Code 39, Industrial 2 of 5, POSTNET, Interleaved 2 of 5, EAN 8, UPCA, UCC/EAN-128, EAN 13, UPCE, USS-93, Standard 2 of 5, MSI Plessey, USPS Sack Label, Telepen, USPS Tray Label

2D Fonts standards : Databar, Databar Code 128, Databar Limited, Databar UPCE, Databar Code 128 Set A, Databar Expanded, Aztec, Databar Code 128 Set B, Databar Stacked, PDF417, Databar Code 128 Set C, Databar Truncated, MICR, Databar Stacked Omni, Databar EAN 8, DataMatrix, Databar MicroPDF417, Databar EAN 13, MaxiCode, Databar UPCA, Databar PDF417, QR Code and Font