Steps to reverse the Video Files with the help of Free Video Reverser Tool
Step 1. Select the Video File
Browse the location of the video file that you want to reverse and click on Open. Once the video is selected, different video details like duration, Frame Height and Width, Data Rate, Video Size, Total Frame, etc and audio details like Bit rate, Sample Rate are automatically showed up on the screen.
Set a different Output File Name or keep it as original file name as per your choice and select the destination location where you want to save the reversed video file by clicking on Select Folder option.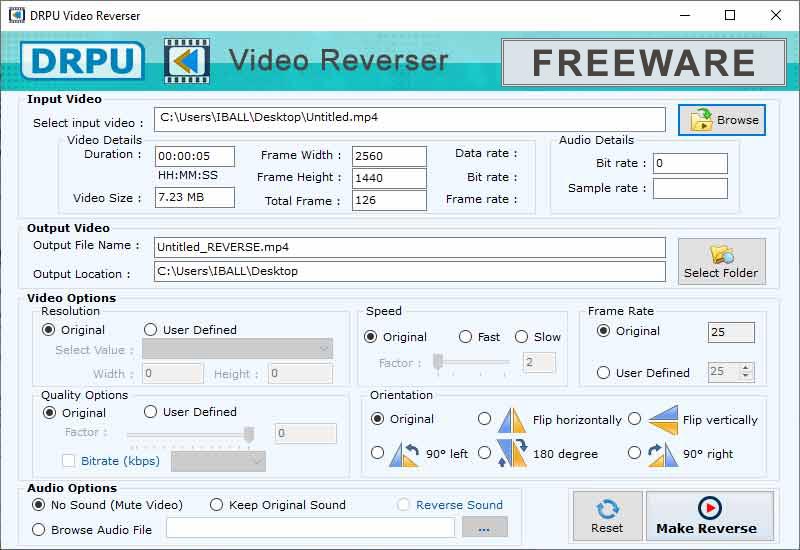 Step 2. Modify the Video and Audio Properties
After that, you can set various video and audio properties of video file that is going to reverse as per your need,
Video options: Set the different video resolutions like Ultra HD, 4k, 1080p, 720p, 360p, 240p etc. and also the size of the video as per the requirement. Set the Speed of the Video as Original, Fast or Slow and change the Factor range.
Keeping the Frame Rate original or set your own custom defined value. Set the Video Quality factor and select you own bitrate (kbps). Change the Video Orientation as original, horizontally, vertically, 90 deg, 180 deg, etc. You can also change the speed of Audio checkbox to change the audio speed as well.
Audio Options: Set the Audio sound to mute, keep original sound or reverse the sound. You can also add your own sound by browsing the audio file.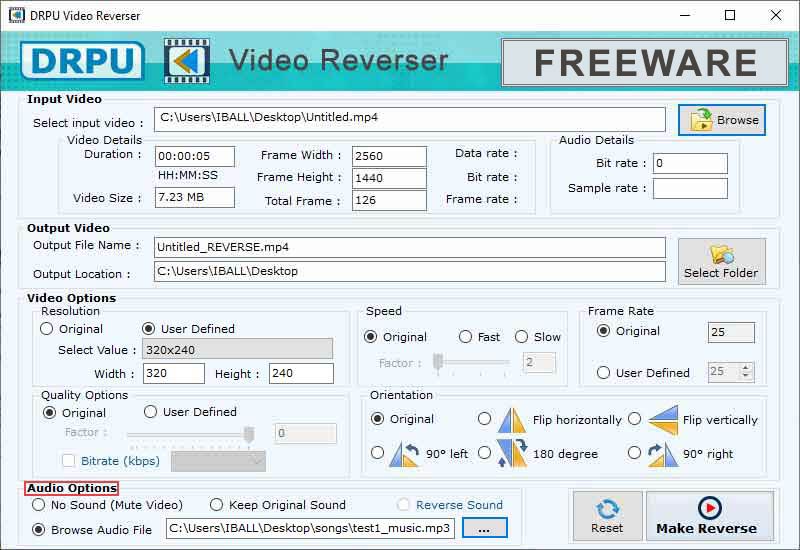 Step 3. Reverse the Video After setting all the video and audio properties, now click on the Make Reverse option to start the video reversing process.
This may take some time and once the video is successfully reversed, a confirmation dialog box appears on the screen where you can see the path of your saved reversed video. Check the Play Video checkbox and click on Ok to play the reversed video.