Choose your License
Health care industry implements barcode generator software in managing various Healthcare industry related activities. Software design bar code labeling standard used for products shipped to hospitals, labels for labeling healthcare industry products including medication, pharmaceutical tools and other similar healthcare products. Bar code software can be used as one the utility for reducing labor costs and human error in health care industry.
Barcode creating Application helps in medical field to take care of the records like medication doses, patient's records or current medical cart and machine or instrumentality in health care section like nursing homes, pharmaceutical centers, hospitals personal clinics, blood banks and varied different health care center and applications.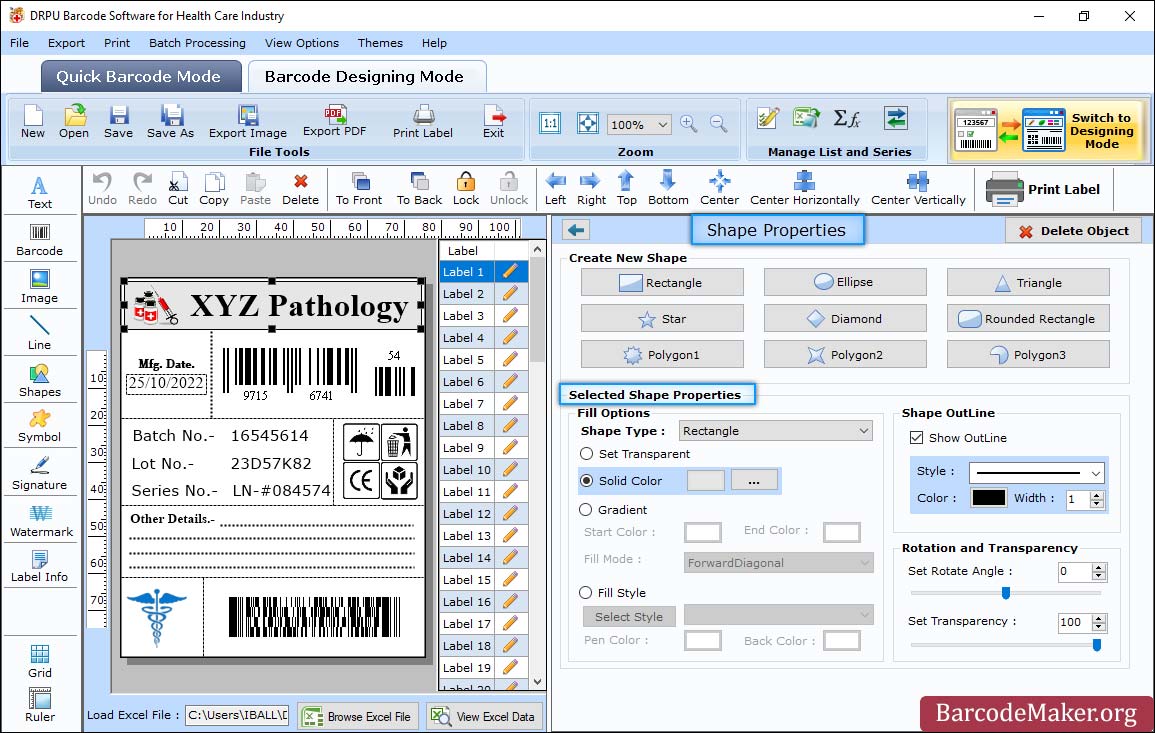 FEATURES OF HEALTHCARE BARCODE DESIGNING SOFTWARE:
Bulk copies of identical barcode label may be written at identical time.

There is associate choice to save the created barcode file patterns together with JPG, BMP, PNG, GIF etc. Application has choice to copy barcode label and paste at such that application as well as MS Word, MS Paint and MS Excel etc.

Medical Barcode Generator Scanning of medication product barcode improves accuracy. Modify product identification so barcodes may be utilized in pharmaceutical laboratories which help to boost the accuracy-efficiency of specimen identification.

Bring this professionally created business barcode software to your medical facility to select the most recent technology advancement. You can now spend your important time with your patients and give them the attention they require by delegating the upkeep of medical stocks, monitoring equipment status; patients case sheets and previous medical record etc.

By using barcode technology, you can more rapidly give the right care to the right patient. Barcode generator software makes it simple to develop pharmaceutical barcodes, which may then be printed or scanned using any common barcode printer or scanner.

Advanced series generating choices helps to generate multiple numbers of healthcare barcodes useful all types of clinic, nursing homes and pharmaceutical industries. Pharmacy Barcode stickers is used in labeling healthcare products, healthcare equipment, medical toolkit and medicines etc.

Bulk copies of an equivalent barcode image are often written on one paper therefore reducing a lot of paperwork. Supports all ordinarily used barcode printers and scanners.
Supports Linear and 2D barcode fonts : Barcode Label Maker Software (Professional) supports all major Linear barcode font standards given below
Linear Fonts standards : Codabar, Code 128 Set A, EAN 8, Code 39, Code 128 Set B, EAN 13, Code 128, Code 128 Set C, UPCA, LOGMARS, Code 39 Full ASCII, UPCE, UCC/EAN-128, Interleaved 2 of 5

2D Fonts standards : Aztec, DataMatrix, PDF417
From Our Blog
How does barcode help in Healthcare Industry?
Barcode is also important and necessary for Important changes in hospitals and attention practices. Through barcode technology, practitioners will see all the previous notes and medical data tied to the distinctive barcode connected to every patient.
Learn More →
From Our Blog
How are barcodes on medical device beneficial?
The bar-coding technique is a way to represent data in a machine-readable format. Barcodes having black vertical and parallel bars with space are named linear or 1-Dimensional barcodes. Where, 2-Dimensional barcodes are developed by using rectangles, dots, hexagons, and many more patterns.
Learn More →