Barcode Maker Software for Healthcare Industry Screenshots
Bring this professionally created business barcode software to your medical facility to select the most recent technology advancement. You can now spend your important time with your patients and give them the attention they require by delegating the upkeep of medical stocks, monitoring equipment status, patients' case sheets, etc., to the barcode program. sBy using barcode technology, you can more rapidly give the right care to the right patient. Barcode generator software makes it simple to develop pharmaceutical barcodes, which may then be printed or scanned using any common barcode printer or scanner.
To Design barcode labels with the Barcode Maker software for Healthcare Industry, follow these steps:
Step1: In the Barcode Designing Mode, change the barcode label shape and size using label Properties.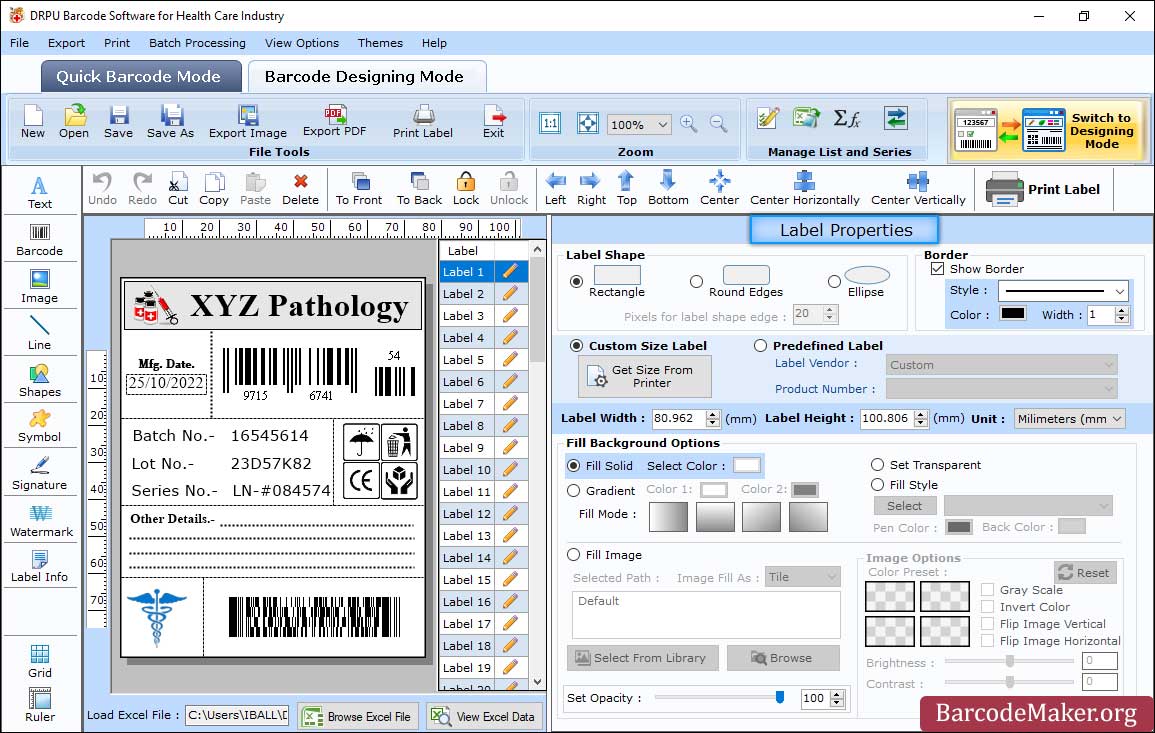 In Barcode Designing Mode, change the Label Properties such as Label Size, Label Shape and so on.
When using the batch processing option, you can choose values, view series, and choose a series.
By employing "Fill Background Options," a solid brush or gradient can be used as a backdrop color, and the transparency of the barcode text can be changed.
Change the frame and rotate the barcode text using " Settings" (style, color, and width).
Set the contrast and brightness of the image in general settings of Picture Properties.
---
Step1: Change Barcode Properties by double clicking on that label barcode as shown in the following Barcode Software screen: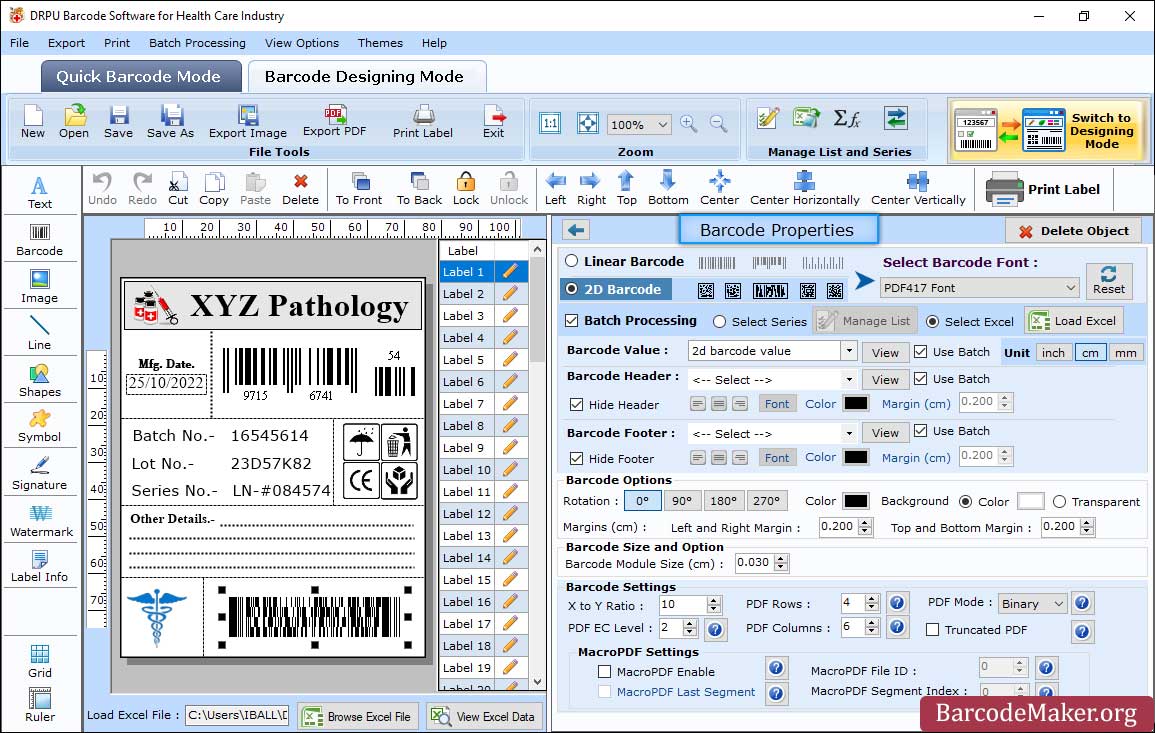 Select Linear Barcode and Barcode Font then in Value section enter the Barcode Header and Barcode Footer.
Select the header and footer barcode fonts as well as the colour for the barcode values using the Font and Color Tab.
Using the Size Tab, configure the barcode's height, density, and top, bottom, right, and left margins.
In Shape Properties, change the Color Settings and Other Settings of the Healthcare Card.
---
Step3: Once the barcode label has been created, select Print Settings from the toolbar. Select print mode and complete the necessary fields: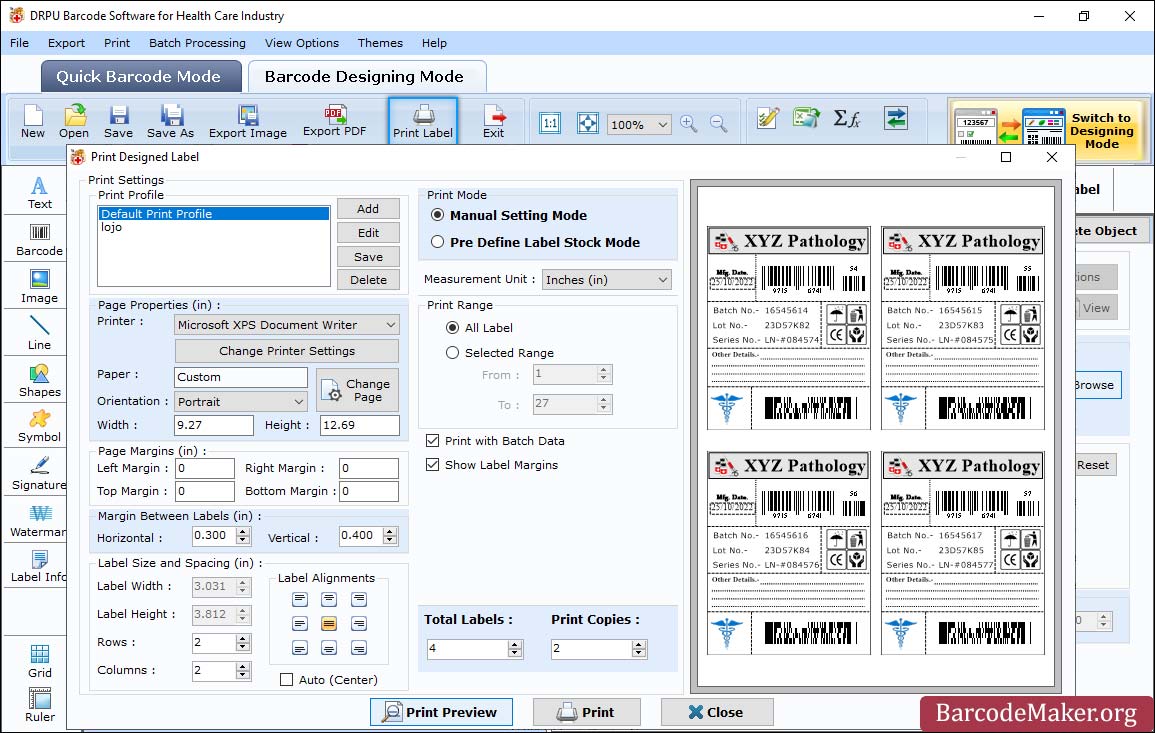 Set the Print Mode (predefine label stock or manual print mode) and Page Properties for printing.
Add a print profile by choosing a printer and a profile name, then change or remove it as necessary.
Choose the printer type, page orientation, and size using the Page settings tab.
To get a print preview of your customised label before printing, press the print preview button and adjust the space between labels.
Then, click on the print button to start the process of label printing.