Greeting Card Maker Software Screenshots
Greeting Card Designer Application allows users to create and print personalized greeting cards with added details like wishes, text messages, and photos. The ability to send designed greeting cards to a user-specified email address is built into the greeting card creation software. Greeting cards, Christmas cards, Valentine's Day cards, and other types of greeting cards can all be designed and printed using software. Various design elements such as rectangles, text, barcodes and images, can be used to create greeting cards quickly and easily. Program generates greeting cards in a variety of sizes and shapes based on your requirements.
Process to create attractive greeting card using Card Designer Software:
Step1: To start creating greeting cards, choose one of the three options.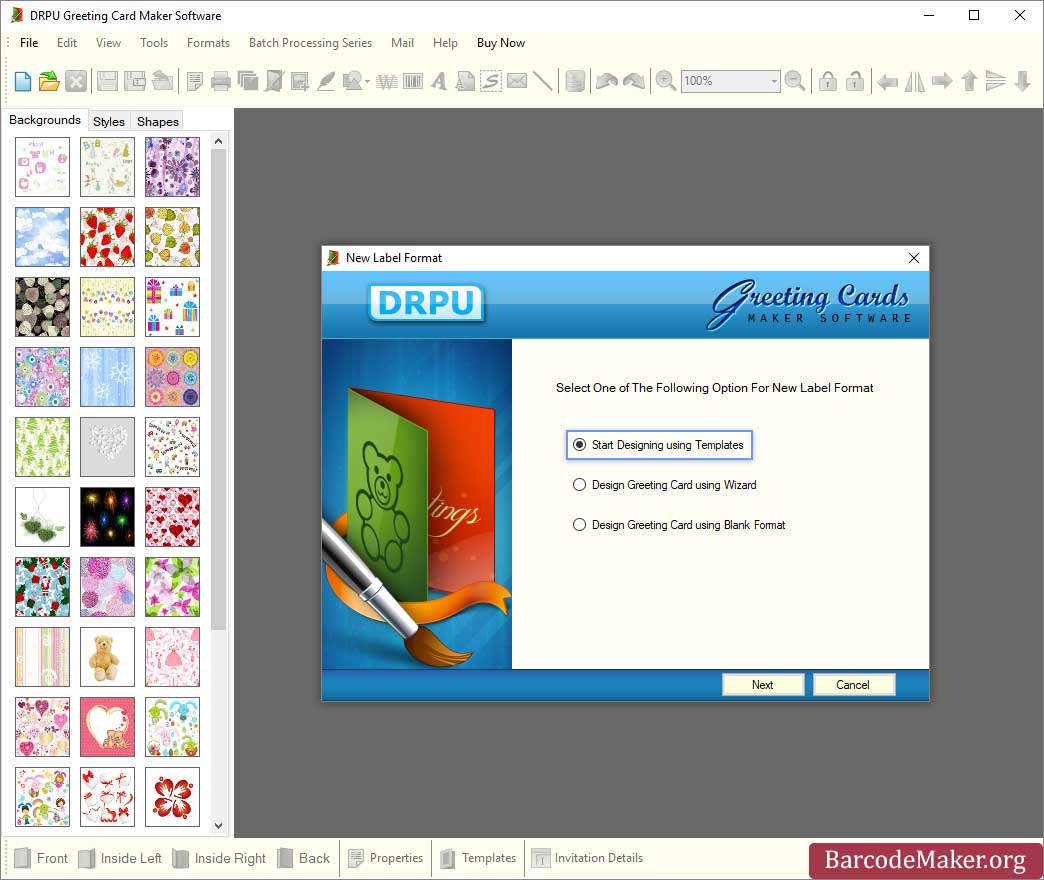 Start Designing Using Templates, Design Greeting Card Using Wizard, or Design Greeting Card Using Blank Format are all options.
Select the "Start Designing Using Templates" option to design a card using predefined templates.
Give the name and size of the label (height and width in mm).
Specify the type of fold, card shape, and change the background settings of the label.
Fill in the Invitation Card Details (Greeting Title, Message, and Venue) according to your requirements.
---
Step2: Choose a background for your greeting card and modify the background properties as requirement.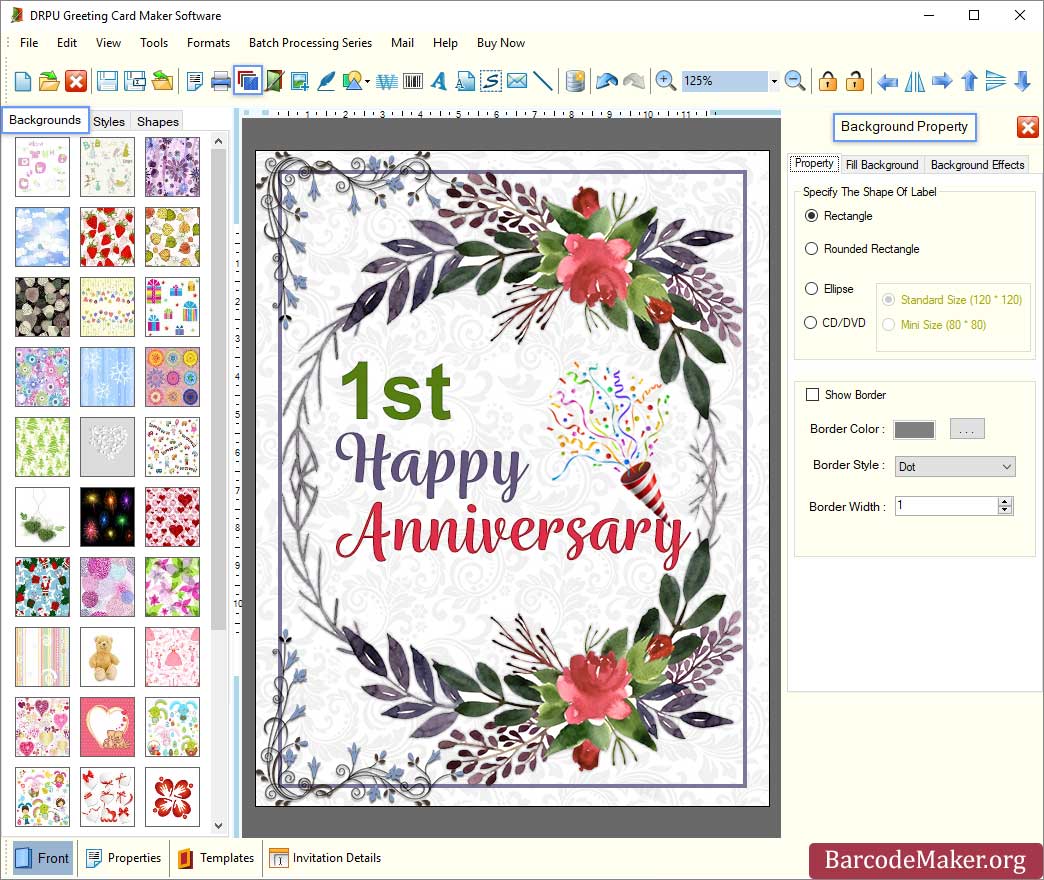 Set the Property, Fill Background and Background Effects of the card.
Set shape of label, such as rectangle, rounded rectangle, and ellipse. Also change the color and style of the card border.
Utilizing the fill background option, select a background image by browsing the image path.
You can also modify "background effects" like brightness, contrast, and hue.
Change color effects, border effects, and other effects with style properties.
---
Step3: Select the print option from the toolbar to either print or save your card to the location you want on your PC.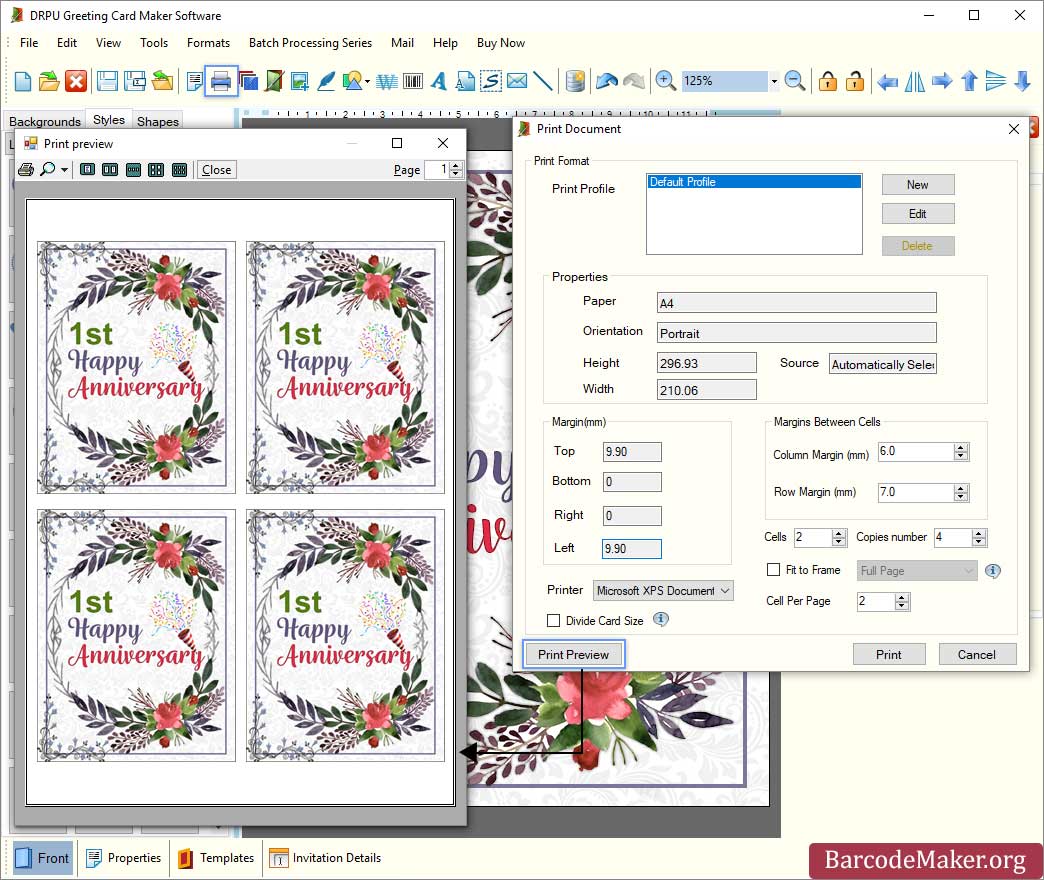 Print the Greeting Card in bulk by setting the property of the Print Document.
Select the page type, orientation, and source. Enter the page height and width as per the requirement.
If required, specify the printer type, label margin, and cell margin.
To avoid printing errors, before printing, preview your card.
Click the "Print" button to print the greeting card that you created.