Barcode Maker Software for Warehousing Industry Screenshots
Barcodes and barcode labels are used as tools in the effective and error-free tracking of manufacturing inputs, raw materials, outputs, etc., and the identification of diverse products for quick access when needed. You may print your created barcode labels in a variety of sizes and forms using the built-in print options of the barcode label creation program. Business barcodes for the warehousing sector are uniquely created with an intuitive, creative platform that enables customers to personalize their barcode features and settings to manufacture high-quality barcodes utilizing any linear and 2D barcode fonts. To create high-resolution manufacturing standards or warehouse barcodes that are readily scanned and printed by all popular barcode printers, barcode designer software employs barcode-creating tools including pencil, text, line, image, arc, ellipse, etc.
Create manufacturing Industry barcode label using following steps:
Step1:To create your barcode and enter barcode parameters as necessary, select Quick Barcode Mode.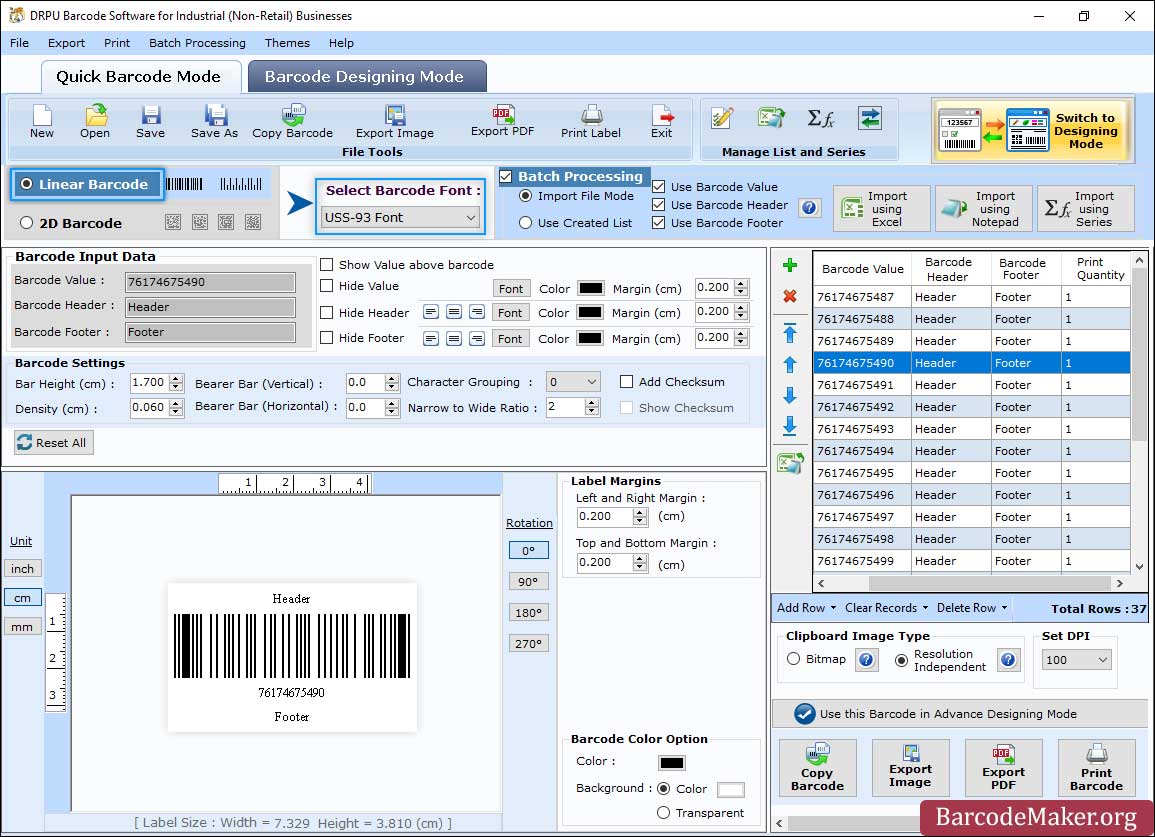 Depending on your needs, choose a 2D barcode or a linear barcode. Select a barcode font now (for example, USS-93 Font).
Set barcode values, header, and footer along with margin and alignment settings.
To include a checksum while designing a barcode label. A checksum is a number that is used to determine whether a barcode value is authentic.
General Settings, Font Settings, Color Settings, and Image Settings may all be customized to your needs.
In Color tab, set the color of the barcode according to your needs.
---
Step2: Click on the barcode in the toolbar, then specify the value, font style, and technology, to add a barcode to your label (Linear or 2D).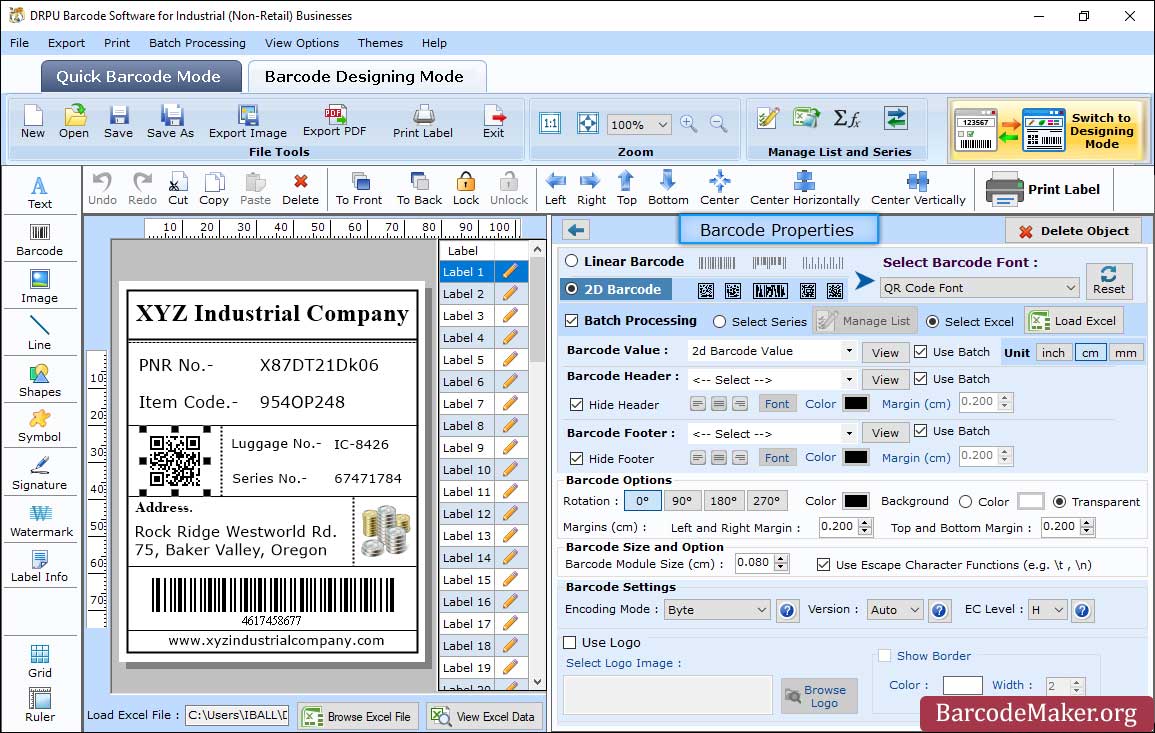 Select Linear Barcode and Font(EAN 13, code128 etc.), then enter the Barcode Value, Header, and Footer.
Size: You may adjust the barcode's size, density, and margin using this tab.
Set barcode colors, as well as the barcode font and style.
Select the batch processing option to add the value of the barcode by importing excel files.
Set the Barcode Settings by changing the Encoding Mode, Version, and EC Level.
---
Step3: Go to the print option in the toolbar to print the barcode labels you've created. Select the printing mode, then adjust the properties.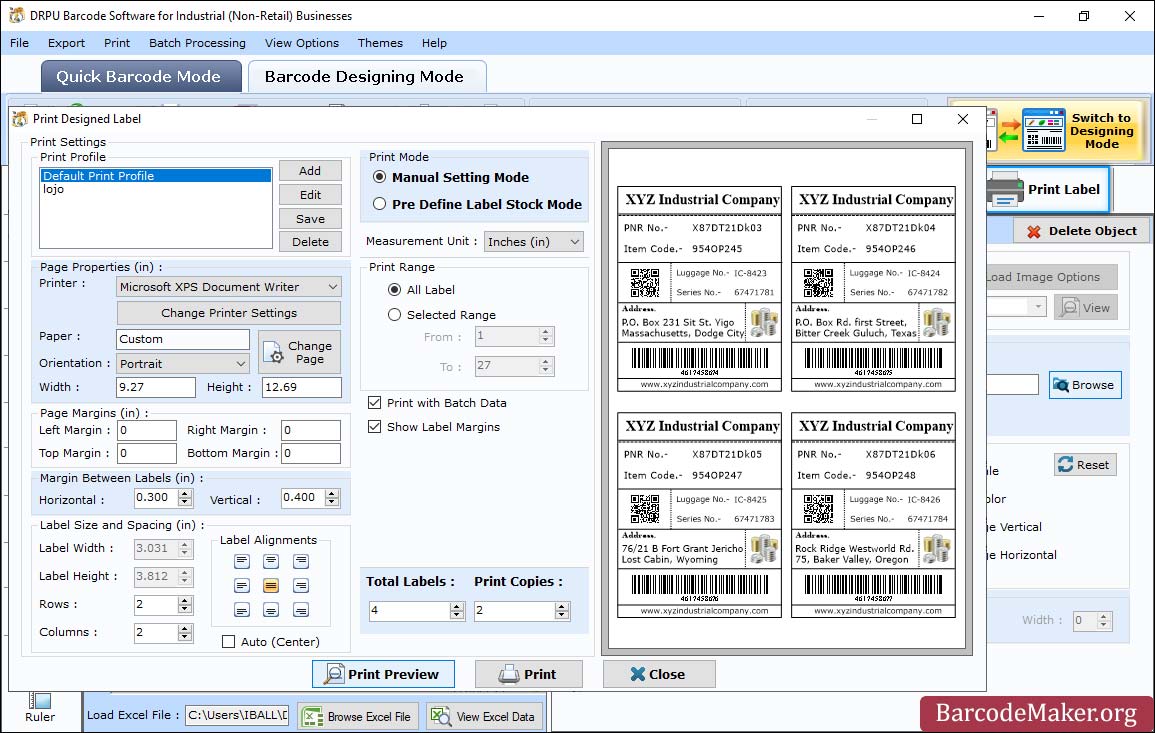 Choose a print mode (such as manual or predefined label stock).
pre-Define Stock mode requires you to choose a label product and configure label information.
You must manually define Page Properties, Margin Between Labels, and other printing variables if you choose Manual mode.
Set margins and number of columns and rows to print barcodes in bulk.
Print preview feature is also offered to prevent printing problems and errors.
To print barcode labels, use the "Print Button" after choosing the print field you want to use.