Barcode Maker Software for Publishers Screenshots
Book published Companies that print books as well as independent book publishers are aware that each book has a unique barcode that may be modified and secured in case access information is required. Professional barcode label maker software was created by industry professionals to create high-quality book barcode labels using supported linear or 2D barcode fonts, enabling the quick circulation of books and precise monitoring of their inventory. Business Barcodes for Publishers and Library Programs are specifically made with an efficient barcode designing view facility that employs different barcode-creating items like photos, text, lines, and rectangles to generate library barcodes quickly. Barcode image scanning and tracing capabilities are included in barcode generating software that keeps track of book data and circulated copies.
Process to create Publishers and Library barcodes labels with Barcode Maker Software:
Step1: Select the linear barcode as displayed in the following Publisher Library barcode software screen to generate linear barcodes using EAN8 Font: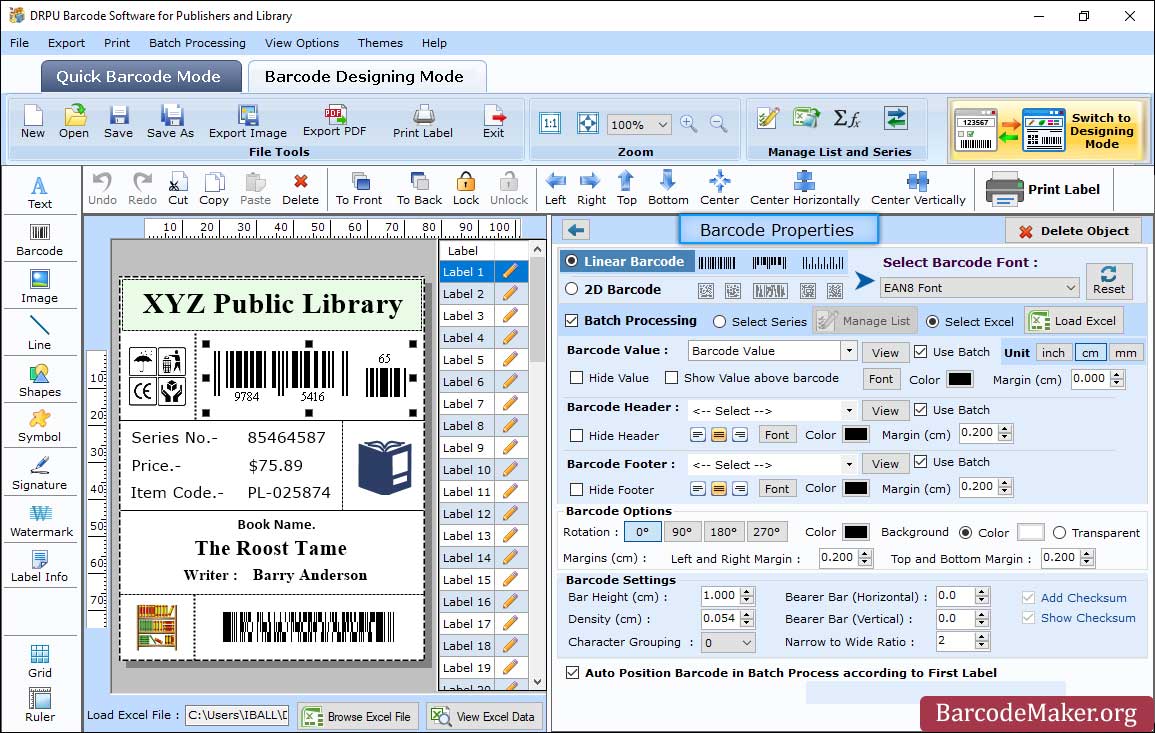 Select Linear Barcode and Font then enter the Barcode Value, Header and Footer as needed.
In Quick Barcode Mode, Set Barcode Header and Footer Value along with other Settings.
Set the Color tab according to your requirements.
Adjust the bar's height, density, top, and bottom borders, and left and other settings as necessary.
You may modify the barcode value, header, and footer fonts using the font settings tab.
---
Step2: By selecting the Text icon from the barcode designing mode panel's tools, you can add text to the label.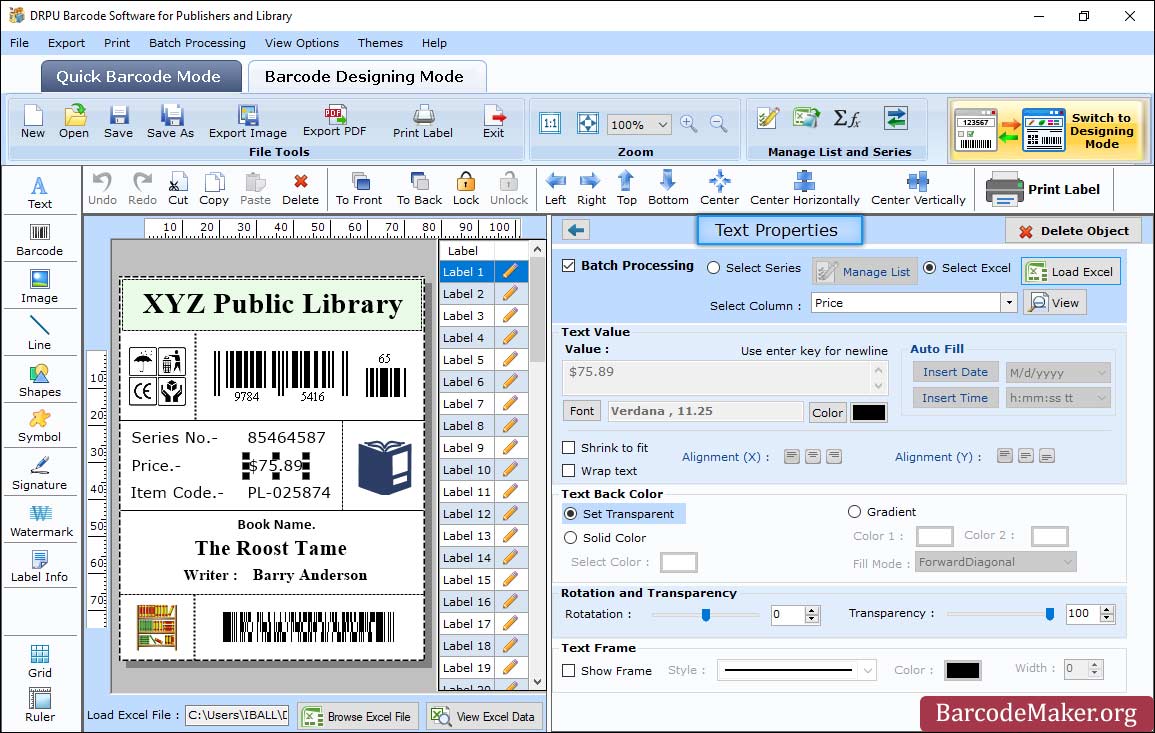 In Text Properties, select Batch Processing then enter the text and set the font settings.
In Barcode Designing Mode, select the Custom Shapes for your label as shown in fig.
Choose the Label Size, Shape, Border in the Label Properties section.
To edit the characteristics of the added text, click on it.
Color settings: Use the color settings option to alter the text and background colors.
You may choose whether to add or hide a frame and rotate the text's angle.
---
Step3: Print the labels for your design publisher and library now. By selecting the print icon from the normal tools, the print window will be shown.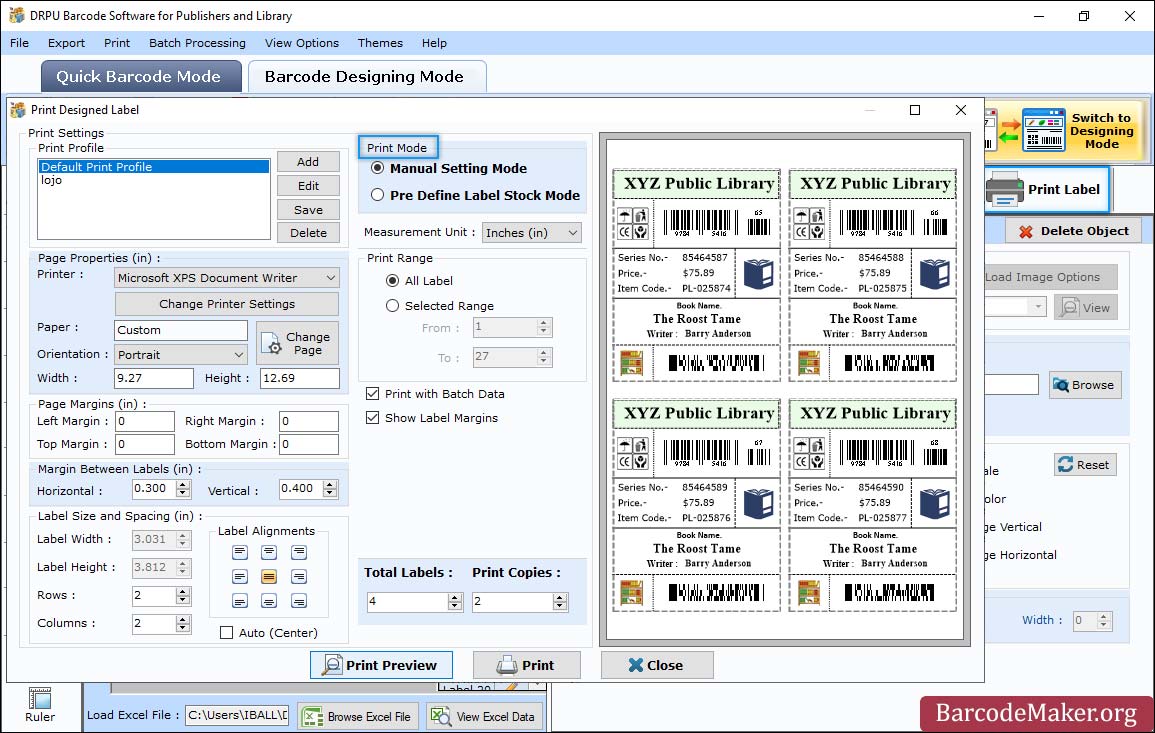 Choose from the Pre-Defined Label Stock and Manual Printing modes.
Set number of rows and columns with top/left margin before printing.
In manual print mode, you can choose a print profile or modify page attributes.
Set print options as well as the vertical and horizontal label margins (printer, the paper used, maximum label per page, and so on).
Once the printing options have been selected, click the "Print" button to  print your designed label.